worship
times
​
10AM ENGLISH
11:30AM SWAHILI/English
SERVICES ARE LIVE-STREAMED
ON FACEBOOK & YOUTUBE
LH Online is on break for the summer! Check back in September for new and exciting conversations!
A UNIQUELY DIFFERENT CHURCH EXPERIENCE. RELEVANT, REAL & CHALLENGING CONVERSATIONS FOR FOLLOWERS OF JESUS &
NOT-YET FOLLOWERS OF JESUS ALIKE!
​
LIVE-STREAMED ON FACEBOOK
& YOUTUBE
WE ARE A DIVER

SE COMMUNIT

Y
AsOne was a fantastic day of celebration! Check out what Jesus did!
At Living Hope we love to love others! We love it even more when we get to partner with our community when we serve! Here are some of the organziations we lead and partner with in order to make a tangible impact in the lives of those in need around us!
our
story
Imagine a ragtag group of people, young and old, who are on a journey with God to get real with others and see the mess they call life as one giant opportunity to experience His love and truth.
We believe that belonging in community is the first step in our journey with God and that it is through real relationship with Jesus and others that God transforms us into His likeness.
We believe that growing in faith is a journey of choosing God's way over our way and in so doing, position our lives to experience relationship with Jesus and encounter a change where our lives begin to look like His.
We believe God created humans to be in relationship with Him and through the restoration of that relationship in Jesus we are called to join Him in making all things new, bringing heaven to earth right here, right now.
Three words that motivate action. It is our hope that we will discover the fullness of life through Christ as we seek to belong in community, grow in becoming more like Jesus, and then go and proclaim His already not yet kingdom to the world!
UPCOMING COMMUNITY EVENTS
Dec 05, 11:10 AM – 11:50 AM

Dayton, 1150 W Spring Valley Pike, Dayton, OH 45458, USA

New? Looking for a place to connect? Entry Point is the perfect opportunity to grab a free donut and hear about all the ways you can plug in at Living Hope! No commitment is required! Take your donut and run if you like!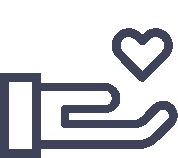 "Whoever is generous to the poor lends to the lord, and he will repay him for his deed."
The irrational generosity of people like you fuels incredible
life-changing moments experienced by everyday people like you.
Ordinary folks just like you who love Jesus and will give everything and do anything to help you on your journey with God.